Kueckis Challenges (coming soon!!)
Mauras Challenges
Around the World 2015: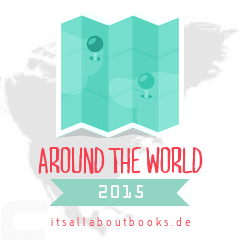 This amazing challenge was created by Crini at
All about books
. It's basically about keeping track where you've traveled to via books in 2015. I've never been thinking about this topic before, so the result of this challenge will be really interesting for me!
Harry Potter Reading Challenge:
Could we just take a second and appreciate that there is finally a Harry Potter Reading Challenge. I'm quite sure that there is nothing more wonderful for a bookworm than a challenge about our favourite series of all time, isn't it? It's basically about learning spells by reading books which are similar to those spells. Here you can find the list of the spells and the book I've read to learn this spell. There are also some special tasks like Dementor. To accomplish it you have to read for example a book whose protagonist is afraid of the dark. By the way, this challenge is hosted by a German blog called
LeFaBook
.
Progress:
2 out of 20 (10%)
Alohomora:
Avada Kedavra:
Amnesia:
Cave inimicum:
Crucio:
Expecto Patronum:
Incendio:
Expulso:
Portus:
Wingardium Leviosa:
Serpensortia:
Morsmordre:
Die Prophezeiung
Lumos:
Amortentia:
Dementor:
The Well of Ascension
House-elf:
Phoenix:
Harry:
Hermine:
Ron:
TBR Reduction Extreme:

Who doesn't have this problem? Your TBR grows and grows and grows, even though you struggle to keep it small - without any success. At least I know this problem. That's the reason why I participate in the
TBR Reduction Challenge
hosted by
Crini
and
Tascha
. Here you can find my progress (general and for each month). On my TBR are now
76
books and a plan is to reduce my TBR by
2
books per month.
January:
February:
March:
April:
Mai:
June:
July:
August:
September:
October:
November:
December: